Summer bar and pool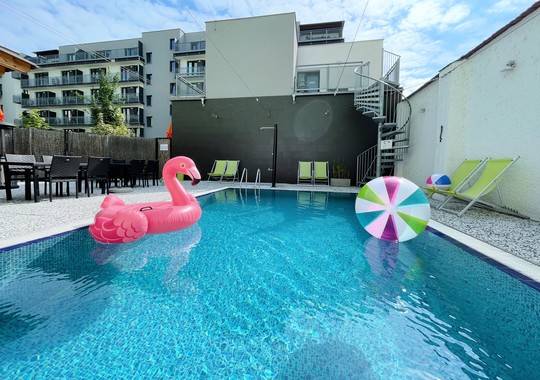 POOL
The saltwater pool (operating in the summer season from 1 May to 30 September) measuring 7x4 m and 1.4 m deep, is heated to comfortable relaxing temperature of 28–30°C. It allows a great swim once the stream jet is on. Admission is FREE for hotel guests, and CZK 50 per day/person for members of the e-Finance Club. Loungers at the pool and on the SUN TERRACE are available for you relaxation and sunbathing.
Operation of the pool in the winter season from 1 October to 30 April In this period, the pool is used as a cooling pool for the saunas in the hotel wellness centre. The water temperature during the winter season is 10–12°C.
The swimming pool is open from 7 am to 10 pm.
SUN BAR
Come and enjoy the sunshine and refresh yourself in our outdoor pool with its chic bar. The eFi Sun Bar is open in the summer season from 1 June to 30 September Mon–Sun from 2 pm to 10 om. A wide selection of food, drinks, mixed cocktails, and ice cream will add to the enjoyment of your bathing and relaxing.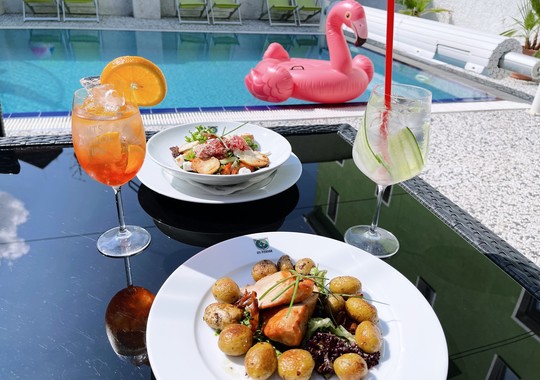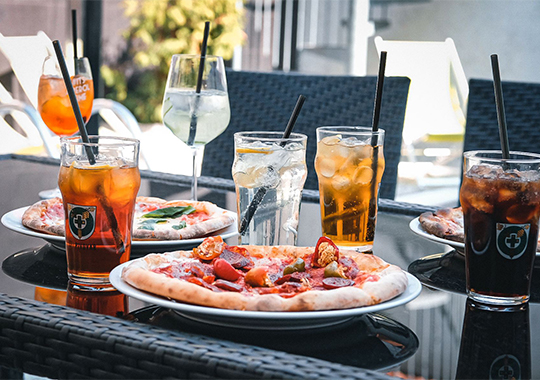 PIZZA & COCKTAILS
On the summer terrace, in this little paradise right by the pool of our hotel, you can enjoy an unforgettable combination of the flavours of Italy. We lovingly prepare our new favourite types of homemade pizza with carefully selected fresh ingredients to make your taste buds dance with joy. But we don't stop at pizza! Our menu also includes a wide range of refreshing cocktails that will perfectly complement any feast. Of course, these are not the usual mixed drinks. Thanks to the lemonades from EFI Brewery, we've adapted traditional classics (like GIN & TONIC) with our unique recipes.
POOL PARTY
Enjoy an unforgettable summer by our pool for a "summer party" or "pool party" with barbecue. Relax by the water, have fun with your friends, colleagues or family and enjoy refreshing cocktails. Rent a space with us and get an unforgettable summer experience full of joy and fun. Of course, catering by our professionals is also a matter of course. In short, you will enjoy the sunshine and refreshing fun like on an all-inclusive holiday.