Steam sauna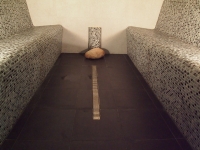 Steam baths were already part of the spa culture in the times of ancient Greeks and Romans. It is a pleasant and healthy sweat bath, similar to a sauna. But its climate is entirely different - the air is not so hot, but it is much moister. Yet its effects are comparable to the sauna. Many people comply with lower temperatures between 40 and 50°C and relative humidity up to 100%, and they are perfect for their relaxation. Hot steam is particularly beneficial for people with respiratory diseases and rheumatic problems. Eucalyptus aroma in our steam bath enhances the positive effect on air passages. Moist heat promotes better blood circulation, it cleanses and revitalises the skin. Therefore, steam baths are appreciated by those who care about their healthy skin.
Proper sauna bathing - steam sauna
The temperature in the steam sauna is about 40-50°C, humidity up to 100%. Before the first entry in the sauna please take a shower.
Warm up
Stay in the sauna until you are thoroughly warmed up.
Length of the stay in the steam sauna is always individual, usually 10 to 20 minutes.
Cool off
After leaving the steam bath it is recommended to take a shower – it unnecessary to cool off dramatically - use tepid water
In addition to the shower cooling air or cooling pool may be used.
Warming and cooling phases are usually to be repeated 2-3 times so as to feel pleasantly.
Lounge
After the sauna bathing we recommend to have 20 to 30 minutes rest on deck chairs in the sauna lounge.
After finishing the procedures, we recommend to refill the fluids, preferably with unsweetened mineral water, fruit juices or other soft drinks, we recommend eFiFresh juices.
Wellness & Fitness Price list
AKTIVITY
TIME
CENA
Fitness

from 7 am to 4 pm

2 hours
80 CZK

from 4 pm to 10 pm

2 hours
100 CZK

additional time

1 minute
1 CZK
Training session
training session TRX training, BOSU and TRX, Workout circuit training, weight loss in the cardio zone, power training, circuit training workouts, the abdomen attack (entrance fee paid by the client separately - see. Fitness inputs)
1 hour
90 CZK
Wellness

from 4 pm to 10 pm

 (

Based on prior demand the sauna is available from 10 am to 4 pm

)
2 hours
180 CZK

additional time

1 minute
1 CZK
private use of the sauna 
1 hour
1500 CZK
Wellness & Fitness
for members of the eFi Club

with unlimited use until 4 pm

1 month
1500CZK

with unlimited use from 4 pm

1 month

2000 CZK

Fitness for members of the eFi Club

with unlimited use until 4 pm

1 month
800 CZK

with unlimited use from 4 pm

1 month
950 CZK
Personal trainer
fee paid by the client separately - see Fitness inputs
1 hour
300 CZK
Disposable slippers, complimentary bathrobe, bed sheets & towels
1 person
50 CZK
Reviews from our guests
"Welcome Perfect for everything! And the food was heavenly delicious! We will certainly return! Sincerely and thankfully: Tünde Gödöny"
Gödöny
"Mindennel meg voltunk elégedve, a jövőben visszatérünk. We were satisfied with everything, and in the future we will return."
Tóth
See all reviews
Address
eFi Hotel Brno
Address:
Bratislavská 52
602 00 Brno
Phone:
E-mail:
We accept following payment cards