LUXURY WELLNESS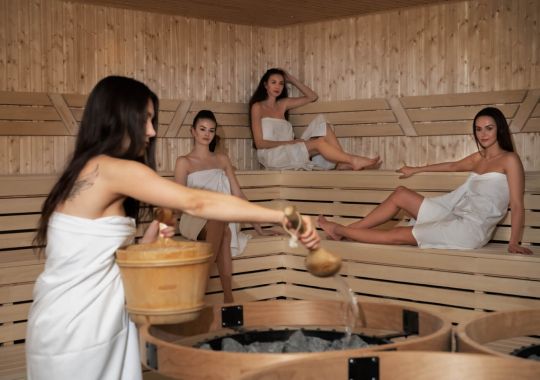 FINNISH SAUNA
The Finnish sauna with a generous floor area of 36 m2 will help you to relax, enjoy time with your friends, or simply have a moment just for yourself. To add more pleasure, the warming up phase is accompanied by relaxing music and subtle chill-out lighting.
STEAM SAUNA
You can enhance your physical and mental wellbeing in our pleasant aromatic steam sauna. The beautiful interior features a glittering mosaic and a vaulted ceiling resembling a starlit sky.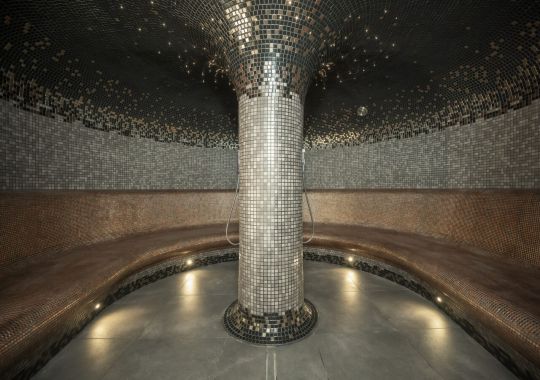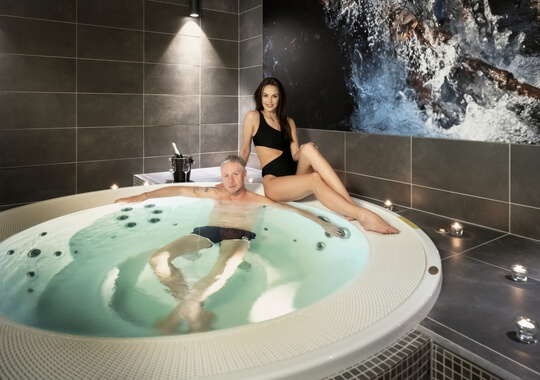 WHIRLPOOL
The wellness area also includes a whirlpool allowing up to 6 guests to immerse themselves in an oasis of calm and harmony.
RELAXATION AREA
After a sauna or treatment in the hyperbaric chamber, you can rest in the unique three-floor relaxation area in the tower of the EFI SPA Hotel. The ambiance is complemented by artwork by Marek Číhal.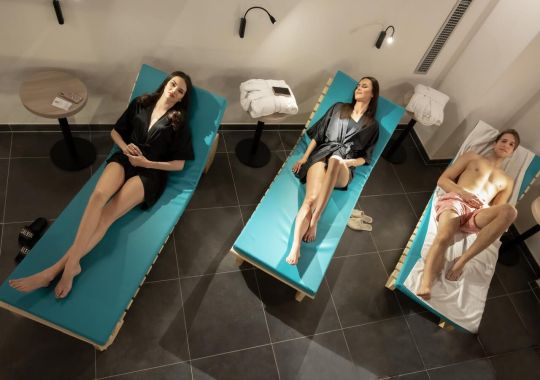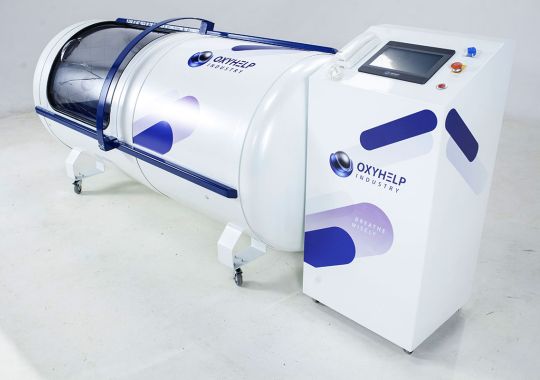 OXYLIFE
The OXYLIFE hyperbaric chamber will enhance the blood circulation in your tissues and improve the oxygenation of your entire organism. This will boost your vitality and quality of your breathing, and harmonise your sleep, which are the factors that contribute to the overall quality of life.
The treatments in the hyperbaric chamber seem to be a great way to recuperate from Covid-19.
REFRESHMENTS
A proper fluid and vitamin intake are integral elements of wellness. Visitors to EFI SPA have coffee, tea, soft drinks and a fruit bar available for free.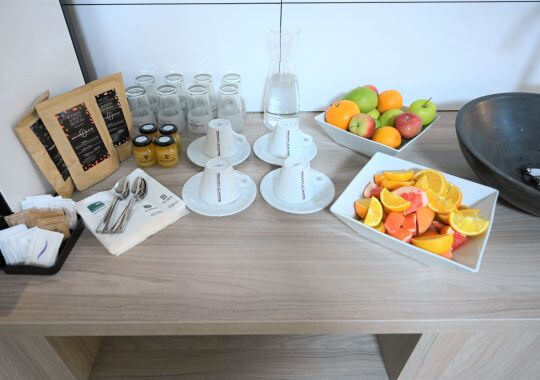 EFI SPA Wellness pricelist
Opening hours:
Monday to Sunday: wellness from 10 a.m. to 10 p.m. - hotel guests only (sun terrace + whirlpool)
Saunas open from 17:00 - 22:00 - access for hotel guests and the public
WELLNESS - hotel guests
saunas and whirlpool
(including wellness package - bathrobe, bath towel, bed sheet and disposable shoes)
unlimited
WELLNESS - public
PRICE
saunas and whirlpool (including bath towel and bed sheet)
Mon-Fri: 17:00 - 22:00
3 hours
350 CZK
Sat-Sun, holidays: 17:00 - 22:00
3 hours
350 CZK
Every additional minute
3 CZK
bathrobe and disposable shoes rental
70 CZK
OXYGEN THERAPY
DETOX - Intensive revitalizing oxygen booster: 50 kPa
90 min.
800 CZK
REFRESH - Gentle revitalizing oxygen therapy (overall refreshment of the organism): up to 30 kPa
60 min.
580 CZK
VITALITY & IMMUNITY - Sustainable Vitality & Immunity
8 sessions 60 min. up to 50 kPa
8 x 60 min.
3900 CZK
Senior Passport holders have a 20% discount on 90-minute therapy in the Hyperbaric Chamber.
Reservation
Your question has been sent.