Summer bar and pool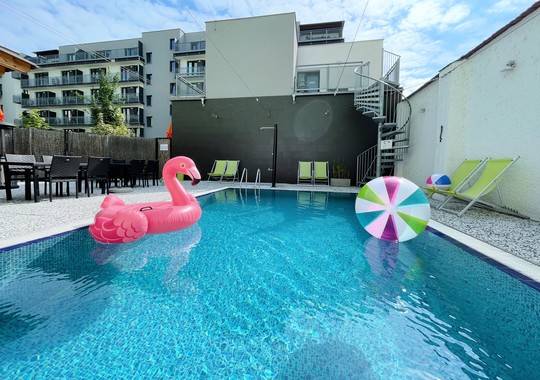 POOL
The saltwater pool (operating in the summer season from 1 May to 30 September) measuring 7x4 m and 1.4 m deep, is heated to comfortable relaxing temperature of 28–30°C. It allows a great swim once the stream jet is on. Admission is FREE for hotel guests, and CZK 50 per day/person for members of the e-Finance Club. Loungers at the pool and on the SUN TERRACE are available for you relaxation and sunbathing.
Operation of the pool in the winter season from 1 October to 30 April In this period, the pool is used as a cooling pool for the saunas in the hotel wellness centre. The water temperature during the winter season is 10–12°C.
The swimming pool is open from 7 am to 10 pm.
SUN BAR
Come and enjoy the sunshine and refresh yourself in our outdoor pool with its chic bar. The eFi Sun Bar is open in the summer season from 1 June to 30 September Mon–Sun from 2 pm to 10 om. A wide selection of food, drinks, mixed cocktails, and ice cream will add to the enjoyment of your bathing and relaxing.