EFI ApartHotel Horní Lipová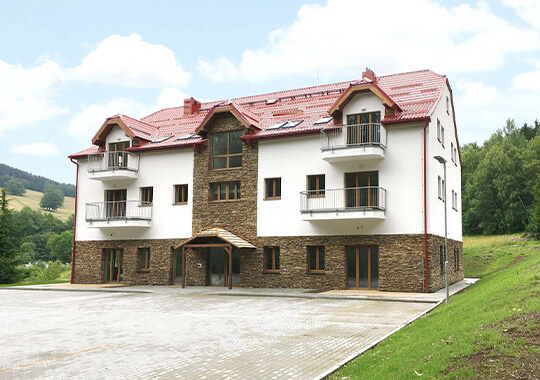 EFI ApartHotel
EFI ApartHotel is a modern apartment-style recreational hotel located in the village of Lipová-lázně, on the border between the Jeseníky Mountains and Kralický Sněžník. It offers 14 exceptionally equipped four-bed Executive apartments and one two-bed Deluxe studio, with a total capacity of 58 beds. EFI ApartHotel is suitable for tourist groups, families with children, and individuals.
ACCOMMODATION
Each apartment features a living room with a kitchenette, a dining area, a fold-out sofa (full double bed), a large bed in the bedroom, a bathroom with a shower, and a toilet. Each apartment also has a balcony or terrace. The apartments are accessible without barriers, and an elevator is available in the building. EFI ApartHotel is a non-smoking facility.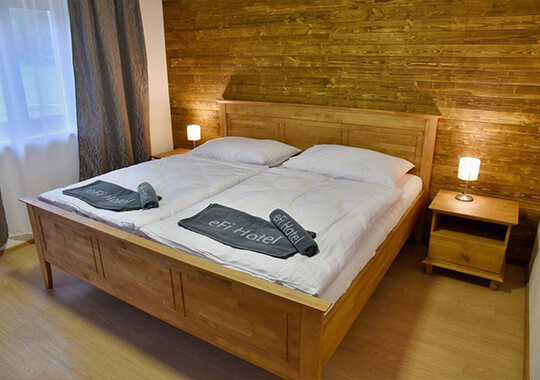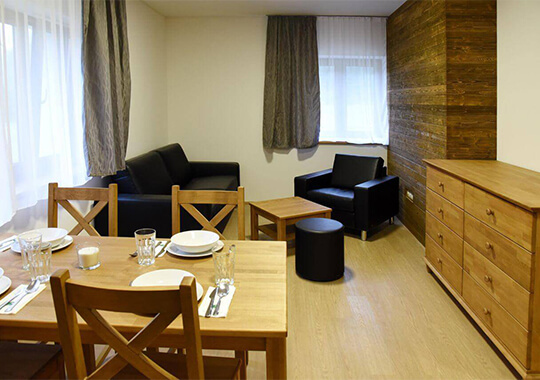 MODERN RECREATIONAL APARTMENT HOTEL
Thanks to the equipped kitchen in each apartment, you can arrange hearty breakfasts, lunches, and dinners. All apartments are equipped with a fridge, kettle, induction cooker, microwave oven with grill, and dishwasher. Several restaurants are located near the accommodation facility.
Free Wi-Fi is available throughout the entire building.
Guests of EFI ApartHotel have access to a spacious bike/ski storage room. The parking lot in front of the building is monitored by cameras.
SURROUNDING EXCURSIONS
The mountain resort is operational throughout the year, offering the opportunity for both summer and winter vacations. EFI ApartHotel is suitable for hikers, cyclists, motorcyclists, as well as winter sports enthusiasts and snowboarders. It serves as an excellent starting point for various tourist destinations. Some of the most interesting places include Praděd, Kralický Sněžník, the Dlouhé Stráně pumped-storage hydroelectric power station, Velké Losiny Paper Mill, Velké Losiny Castle, the forest bar in Horní Lipová, and more...
In the village of Lipová-lázně and its vicinity, there are well-maintained cross-country skiing trails and downhill skiing areas. Within the village, you can find the Lázeňský vrch ski resort and the Ski Centrum Miroslav.