Contact
Arriving by car:
From Prague or from Olomouc:
From the highway D1/E50/E65 take the exit Exit 196 (Brno- Centre ), which will lead you to Kastanova Street. Continue according to the chapter "From Bratislava"

From Bratislava:
Highway D2 / E 65 will take you directly to Kastanova Street. Go approx . 6 km straight ahead (Streets Kastanova, Hnevkovskeho, Svatopetrska, Plotni, Dornych, Koliste). Continue according to the chapter "From the city center"

From Vienna:
Follow the motorway E461/R52 towards the city center along the Herspicka street.
On the right you will pass Hornbach shopping centre and the Spielberg office centre. At the end of the Herspicka street turn right onto the Opustena street and keep the left lane. After having passed under the viaduct turn left onto the Uhelna street at the traffic light. At next traffic light at the end of the Uhelna street turn right into the Uzka street and stick to the left. At the traffic light at the end of the Uzka street, turn left onto Dornych . Continue straight, cross the tram tracks and pass the Krenova street and arrive at Koliste. Continue according to the chapter "From the city center"

From the city center:
The Bratislavska Street is a one-way street towards the city center. It is best to arrive from the Cejl street , where you turn into the Soudni Street and at it's end turn left into the Bratislavska street. Our hotel is on the left. You cannot miss it. The entrance to the courtyard for parking is just behind the reception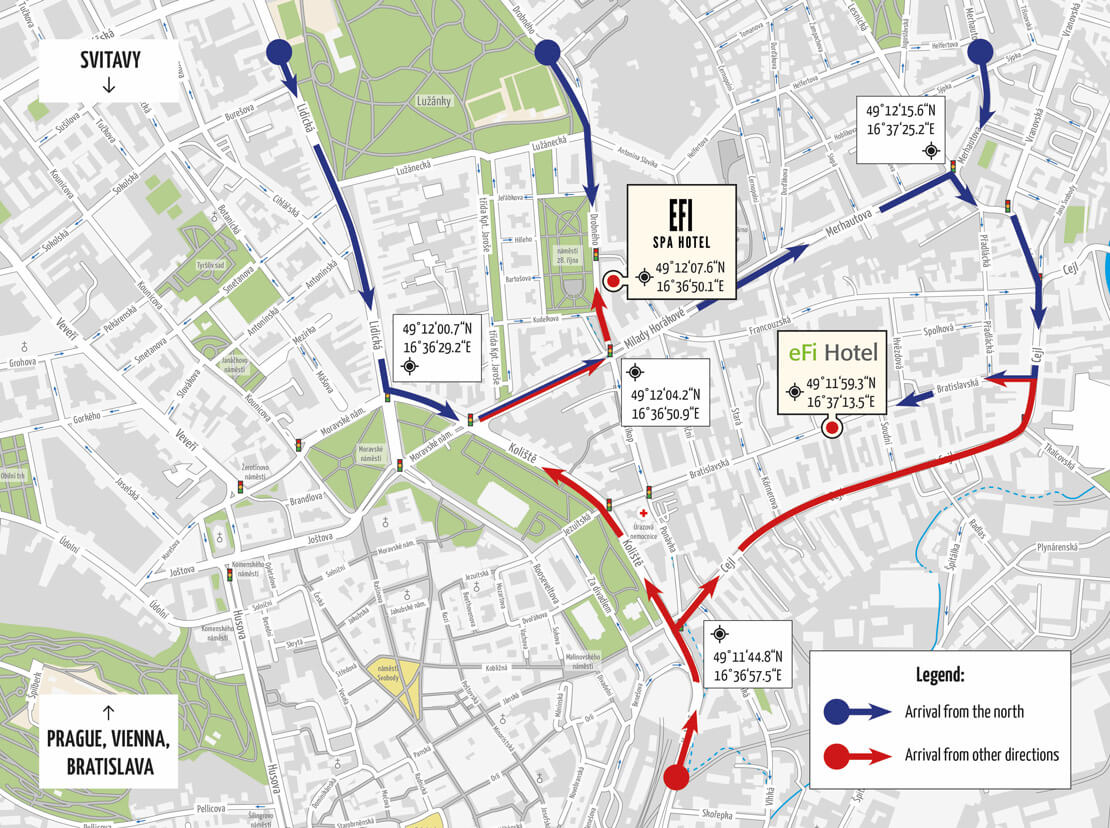 Arrival by public transport:
From Central Station by tram No. 2 (direction Körnerova) get off at the Körnerova tram stop, return back a bit and turn to your right down the Körnerova street. At it's end, turn right again down the Bratislavska street. eFi Hotel will be on your right hand – you definitely cannot miss it.
City Centre (Malinovskeho Square) is reachable on foot within 10 minutes.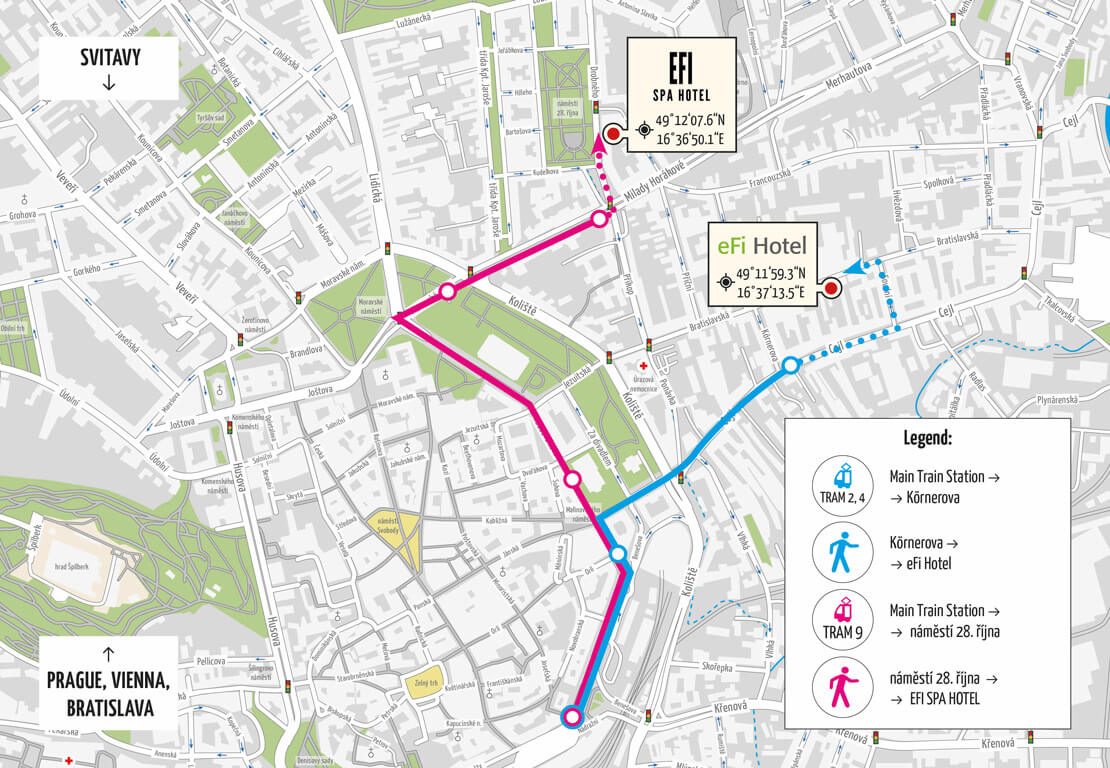 Bus arrival:
For trouble-free arrival of the bus use the arrival from Cejl street, from where you turn to Bratislavská street. For arriving from Prague, Vienna, Bratislava do not turn to Bratislavská via Soudní street. Turn straight from Cejl street. The Soudní Street is narrow and the turning is complicated for buses. Our hotel is on the left hand side and you won't miss it. Bus parking is reserved in front of the hotel.