AQUA FITNESS - fitness exercises in the pool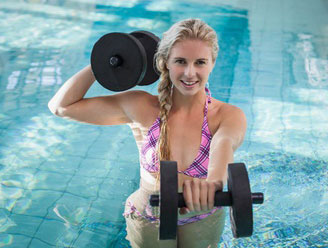 AQUA FITNESS - workout in our heated pool is under the guidance of a trainer. The session lasts about 60 minutes. It includes a stretch, warm up, and then begin swimming. Following its own set of toning exercises designed to strengthen the muscles of the upper and lower limbs, back and abdomen. The exercises are done in the water, which does not excessively burdened the musculoskeletal system, joints and spine. At the end of the workout we will perform stretching of the trained muscles. We use special exercise equipment for aqua fitness.

The training program is designed for a maximum of 5 people in relation to the capacity of the pool. A minimum number of 3 people is needed for lessons to be organized for each session.

Dates for exercise classes are every Tuesday from 11 am to 12 pm and Thursdays from 3 pm to 4 pm.
Reservations must be made at least one day in advance.
Individual appointments can be arranged by calling 724 151 452 (trainer Stanley), or at the reception of eFi Wellness & Fitness: tel. 515,555,520 (hotel DID 120), email: wellness@efihotel.cz
Price: CZK 200 / 60 minutes / per person