eFi Fresh smoothie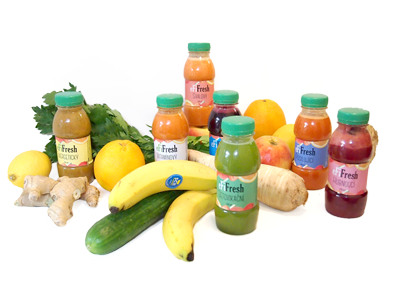 They are healthy, encourage detoxification of the body, supply quick energy during workouts, they have low calories count, they provide the body with minerals, vitamins, essential fatty acids, carbohydrates and proteins, they improve energy levels, they are good for the skin, they strengthen immunity and bones. Simply you cannot start your healthy lifestyle without fresh juices. In order to indulge our guests and also to guarantee top quality, we started to produce eFiFresh juices from fresh fruit ourselves.
Well thought-out blend
Currently we can offer five kinds of our homemade eFi fresh juices for different occasions.
| | | |
| --- | --- | --- |
| 1. | Carrot: | 80% carrot, 0% apple |
| 2. | Refresh: | 40% ccucumber, 40% apple, 20% zucchini |
| 3. | Detox: | 35% beetroot, 10% celery leaf, 35% cucumber, 17% celery, 3% ginger |
| 4. | Energy: | 40% apple, 30 % orange, 10% kiwis, 10% banana, 10% grapefruit |
| 5. | eFiFresh 100%: | Green apple, Juicy oranges, Red grapefruit, Sweet carrots, Summer strawberries |
eFi fresh juices beneficial in many ways
eFi Fresh juices support the cardiovascular system, lower blood pressure, strengthen the immune system, stimulate the stomach activity and bile formation, help to recover from illnesses, helps cure diseases like borreliosis and tick-borne encephalitis, have positive effect on eyesight, relieve intestines from toxic substances, help with atherosclerosis, they improve skin elasticity and gloss, hair and nails.
Professional preparation
Our juices are daily prepared from the finest ingredients. During production we pay attention to every detail. Vegetables and fruits are carefully picked and washed before extracting the juice. Juice processing takes place in our professional catering kitchen, using the latest technology. Freshly made juice is bottled immediately and a cooled down at 5°C. Therefore, the juice does not oxidize and its freshness and quality remain preserved. On these conditions juices are stored for up to three days and during this time 100% quality of fresh juices is maintained. We never use any additional substances such as sugar or preservatives during the production of fresh eFi fresh juices.
Great availability and price
eFi juices are available at the reception of eFi Palace Hotel, in the hotel restaurant Stará Tkalcovna and in eFi Wellness & Fitness in the courtyard of the hotel. 260 ml bottle for CZK 45 or 1.5 l bottle for CZK 260.
Accommodation packages with eFiFresh juices
It does not all end with the actual production and sales. eFiFresh juices are included in the diets of detoxifying and wellness & fitness packages. At present you can try the healing effects of eFi fresh juices within the three-day detox stay under the supervision of a personal trainer.
Reviews from our guests
"Hotel is perfectly clean and comfortable. The Staff is kind and helpful. I sincerely recommend the Hotel."
Lena
See all reviews
Address
eFi Hotel Brno
Address:
Bratislavská 52
602 00 Brno
Phone:
E-mail:
We accept following payment cards