Restaurant Stará Tkalcovna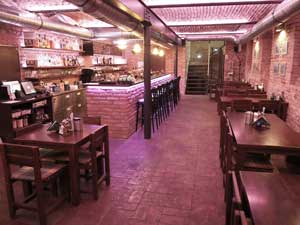 Stará Tkalcovna, a chic restaurant that will certainly take you aback with its classy design and space right from the start.
Fair-faced brick, original steel beams and columns. It all evokes memories of a dated weaving mill from the First Republic, which actually stood here according to historical sources and memories of living contemporaries.
Nowadays the only reminder of its time of origin is the elegance and tranquillity, surrounding our guests. On the contrary the restaurant equipment is new, professional and one of the most modern, which corresponds to the excellent level of provided services.
Nowadays the restaurant reminds us of just with its elegance and tranquillity that guests are experiencing here. Its new professional equipment, on the contrary, one of the most modern, which an excellent level of service.
The restaurant serves top-class meals cooked from fresh and quality local produce. The menu composition in Stará Tkalcovna is drawn up so that both lovers of Czech and international cuisine are satisfied, meatless and diet food are covered, and most importantly – so that there is always something worth coming back.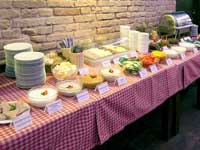 The restaurant Stará Tkalcovna is also inseparably linked with the eFi Palace hotel complex. Breakfast in buffet style with unlimited consumption is served to both hotel guests and the public and according to many positive responses, the breakfast at restaurant Stará Tkalcovna is definitely worth trying.
The lunch menu with a choice of two soups and three meals is another reason for visiting the restaurant just like dozens of people from the neighbourhood daily do.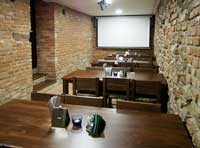 Stará Tkalcovna restaurant offers something extra as well. Whether it's a meeting, a lecture, a birthday party or a wedding, it is possible to use the lounge with a capacity of 24 seats, equipped with projector and sound system, or straightforwardly book the main premises of the restaurant with 60 seats, equipped with audio and video device. Regularly you can spend the evening in a restaurant listening to live piano music, or attend concerts of live bands from various genres.
For more information, please visit restaurants website: http://www.stara-tkalcovna.cz/
Contact and booking: telephone: +420 515 555 515, mobile: +420 727 947 748,
e-mail: restaurace@stara-tkalcovna.cz
Online reservations here
Stylish restaurant Stará Tkalcovna in the city centre. Surprising space and its exclusive design. Superb dining. Top-quality food for lovers of both Czech and international cuisine. Offering meatless and diet food. Large selection of wines and cocktails.
Reviews from our guests
"Clean rooms, nice staff, good restaurant. Worth the price. Thank you."
Lang
"Mindennel meg voltunk elégedve, a jövőben visszatérünk. We were satisfied with everything, and in the future we will return."
Tóth
See all reviews
Address
eFi Hotel Brno
Address:
Bratislavská 52
602 00 Brno
Phone:
E-mail:
We accept following payment cards